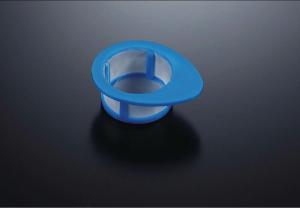 Cell strainers, 40 µm pore size, blue frame
12
people are viewing this right now
Description
Manufactured from a strong nylon mesh with evenly spaced mesh pores, these cell strainers are sterile, easy to use devices for quickly isolating primary cells to consistently obtain a uniform single-cell suspension from tissues. Designed to protect valuable flow cytometry and cell sorting instrumentation by reliably removing clumps and debris from cell suspensions and clinical samples prior to analysis.
Cell strainers are laboratory devices used to filter cell suspensions and remove any unwanted debris, aggregates, or clumps of cells that may interfere with downstream assays or experiments. They consist of a plastic frame with a mesh filter that allows the flow of liquid while retaining the cells.
Available in three mesh sizes with different colours for easy identification
Extended lip on the strainer enables aseptic handling with forceps
Ready to use, sterilised by electron beam irradiation
Individually wrapped
Fit into most 50 ml conical tubes
Free from DNase and RNase, non pyrogenic
50/PK
ISO 9001, ISO 13485
There are no question found.