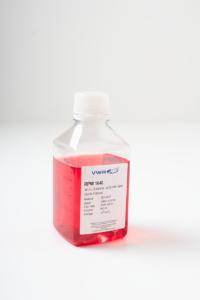 VWR MEM with Earle's salts without L-Glutamine 500 ml
14
people are viewing this right now
Description
Minimum Essential Medium (MEM) with Earle's Balanced Salts is a modification of Eagle's earlier Basal Medium (BME) which contains a higher concentration of essential nutrients. These media promote the growth of a variety of normal and transformed cells. Since they contain Earle's Balanced Salts, they are suitable for use in atmospheres charged with CO₂ gas.
MEM (Minimum Essential Medium) is a widely used cell culture media for the in vitro growth and maintenance of various cell lines. The MEM with Earle's salts without L-Glutamine is a specific type of MEM formulation that is commonly used in cell culture experiments.
This MEM formulation contains Earle's salts, which is a balanced salt solution that provides the necessary ions and nutrients for cell growth and maintenance. However, it does not contain L-Glutamine, an essential amino acid that is often included in other MEM formulations.
500 ml
without L-Glutamine
There are no question found.