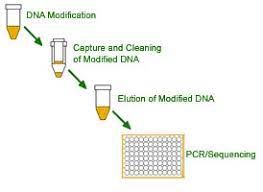 Methylamp One-Step DNA Modification Kit
14
people are viewing this right now
Description
The Methylamp™ One-Step DNA Modification Kit is a complete set of essential components that enables the experimenter to perform DNA methylation analysis using Epigentek's uniquely simplified and streamlined bisulfite method. The entire procedure can be completed within a mere 1 hour and 45 minutes and produces far superior results than any competitor kits. The Methylamp™ One-Step DNA Modification Kit is suitable for MS- PCR, real-time MS-PCR, methylation sequencing, and pyrosequencing, as well as methylation microarray. The kit has the following advantages:
The number one fastest procedure available. The entire experiment can be finished within 1 hour and 45 minutes.
Completely converts unmethylated cytosine into uracil: modified DNA > 99.9%.
The lowest degradation of DNA in the modification process: more than 90% of DNA loss can be prevented.
The lowest requirement of starting DNA for modification: only 50 pg or 20 cells.
Extremely simple, reliable, and consistent modification conditions.
Principle & Procedure
The Methylamp™ One-Step DNA Modification Kit contains all reagents required for bisulfite conversion on a DNA sample. DNA is denatured by heating, which allows DNA denaturation and bisulfite modification to be carried out simultaneously. In the modification process, bisulfite reagent reacts specifically with single-stranded DNA, thereby deaminating cytosine and creating a uracil residue. The unique DNA protection reagents contained in the modification buffer can prevent the chemical and thermophilic degradation of DNA in the bisulfite treatment. The non-toxic modified DNA capture buffer enables DNA to tightly bind to the column filter, thus DNA cleaning can be carried out on the column to effectively remove residual sodium bisulfite and salts. Modified DNA then can be eluted and stably stored at -20°C for up to 2 months.
There are no question found.