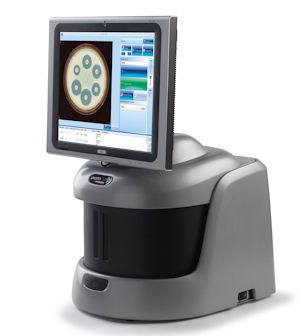 ProtoCOL 3 – Automatic colony counting and zone measuring
20
people are viewing this right now
Available on backorder
Description
ProtoCOL 3/ProtoCOL 3 HD is the next generation instrument for colony counting, zone measurements (inhibition and antibiotic susceptibility testing), membranes, PETRIFILM™ plates, CompactDry™ plates and a range of other applications including: spiral plates, OPKA (opsonophagocytic killing assay), SBA (serum bactericidal assay), Multi-sector, Multi-well, SRD (single radial immunodiffusion) and Ames. The new design enables plates of up to 150mm diameter to be automatically read at the press of a button. Designed for use across a wide range of applications, ProtoCOL 3 will count colonies as small as 43 microns (0.043mm) and measure zones accurately to 0.5mm with a theoretical detection limit of 0.1mm.
ProtoCOL 3 has a unique 3 channel LED lighting system configured for exceptional illumination of all sample types. High definition, colour images taken with a 1.4 mega pixel scientific grade CCD camera ensure that even the smallest colony can be seen and counted, while zone measurements are fast, accurate and reproducible. ProtoCOL 3 HD, the newest addition to the range, has an ultra-HD 5 megapixel camera which captures high definition images and measures zones with >99.9% accuracy, making the ProtoCOL 3 HD a must-have for vaccine potency testing and other laboratories wanting to optimize zone reading accuracy.
The ProtoCOL 3 system is available with a mounted touchscreen processor which enables ease of control while the easy-to-use software produces highly accurate results. Alternatively, the ProtoCOL 3 can now be used with a new or existing stand-alone desktop or laptop computer via USB connection – no additional PCI cards are required.
The ProtoCOL 3 comes inclusive with both colony counting and inhibition zone measuring ability. To extend its range of applications, inexpensive additional modules can be added to the software for Spiral, OPKA, SBA, Multi-sector, Multi-well, Ames and antibiotic susceptibility testing (eAST). Results can be automatically transferred to Excel or a LIMS system. The system can also be used with 1D barcodes. All data generated is GLP/GMP/21 CFR Part 11 compliant with a full audit trail and can be used to produce professional reports. Each system comes complete with 2 validation plates. Additional application-specific validation plates are available on request.
ProtoCOL 3 is being used at a world renowned vaccine research facility for testing and designing new and existing vaccines against serious bacterial diseases. One of the ways scientists there test the efficacy of vaccines is to mix serum from vaccinated participants with bacteria in an SBA assay – click here to view testimonial video.
The ProtoCOL3 is an ergonomically designed imaging unit with dark screens to eliminate ambient light effects and improve imaging results. The unit contains a high resolution camera with red, blue and green LED lighting (patent pending) integrated to a processor and software. The software is accessed via a touch screen PC mounted on the unit and features on screen commands, allowing users to intuitively set their system up in minutes. These settings can be saved to make analyzing the same plate types at a later date, a quick one touch process. Includes Zone module for Antibiotic Susceptibilty Testing and Inhibition Zones, and validation plates for counting and zone sizing.
More Products
Synbiosis
We are a division of the Synoptics Group, founded in 1985 by imaging experts from the University of Cambridge. Synoptics Ltd is owned by SDI plc. At Synbiosis we are passionate about making colony counting and zone analysis easier. That's why we have developed products specifically designed to automate colony counting and inhibition zone measurement, to relieve you of the tedium involved with these repetitive manual tasks. The other division in the Synoptics Group, Syngene, produces imaging solutions for molecular biology applications. Synoptics Health focuses on imaging techniques within the clinical environment. This diverse expertise makes the Synoptics Group a complete resource of life science imaging specialists. We are headquartered in Cambridge, a thriving scientific hub in the UK and have a centrally located US subsidiary in Frederick, USA. Globally, our products are supported by an international network of over 90 highly-trained distributors, all of whom employ specialists in microbiology.
There are no question found.