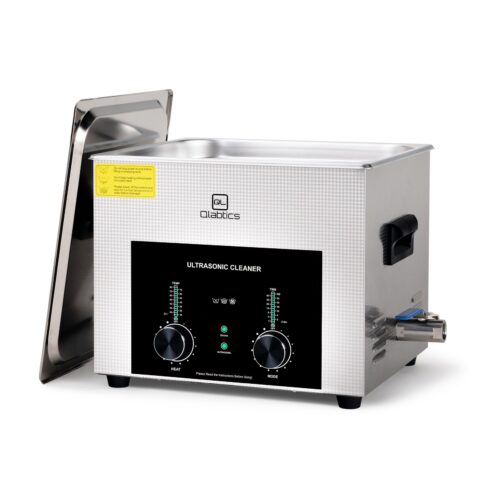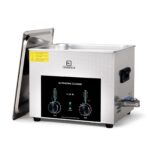 Qlabtics Ultrasonic Cleaner 10L
23
people are viewing this right now
Description
The ultrasonic cleaner by Qlabtics is a highly versatile cleaning machine that can be used in a variety of industries, including automotive, medical, pharmaceutical, aerospace, engineering, and other industrial sectors. Its effectiveness in removing dirt, debris, and contaminants from a wide range of surfaces makes it an ideal choice for industries that require efficient and thorough cleaning processes.
The versatility of ultrasonic cleaning machines make them an ideal choice for the automotive, medical, pharmaceutical, aerospace and engineering industries, as well as many other industrial industries.
Features:
Temperature Range of 0-80ºC: The ultrasonic cleaner allows for precise temperature control within this range, making it suitable for a wide range of applications.
Adjustable Timer: The cleaner can be set to run for a specific time period (up to 60 minutes) or continuously, allowing for flexibility in cleaning procedures.
Industrial-Grade Circuitry: The integrated circuitry is designed to withstand heavy usage and maintain consistent performance over time.
Durable Construction: The tank is made of die-cast SUS304 stainless steel, providing durability and resistance to corrosion.
Ultrasonic Mode: The cleaner uses a 40kHz ultrasonic mode for intensive cleaning, allowing for thorough removal of contaminants.
Degas Mode: A specialized degas mode helps to remove ultrasonic fatigue from the cleaning solution, improving overall cleaning performance.
Heating Function: The heating function allows for dewaxing and degreasing, making it suitable for cleaning a variety of materials.
Encoded Control: The ultrasonic cleaner features high-precision encoded control, ensuring accurate and consisten  cleaning results with a long service life.
ULTRASONIC
40KHz Ultrasonic Mode for Intensive Rinse–Professional for Blind Holes Cleaning
DEGAS
Intermitted Pause to Remove Ultrasonic Fatigue-Improve Ultrasonic Cleaning Performance
TIME
1 ~60minutes or Always on-Encoded Control of high-precision
HEAT
0-80°C Temperature Range Encoded Control of high-precision
Model No.
Tank Size

(mm)

Overall Size

(mm)

Capacity
Freq.
Ultrasonic Power
Heating Power

(W)

Box Size

(mm)

N.W.

(KG)

G.W./Box (KG)
QUC-10L
300*240*150
330*270280
10L
40KHz
240
300
430*335*355
6.5
7.56

More Products
Qlabtics
At Qlabtics, we take great pride in delivering high-quality laboratory equipment to researchers and scientists worldwide. Our Chicago-based company has been providing unique and innovative solutions to enhance the efficiency and effectiveness of laboratory research. Our commitment to exceptional quality is at the core of everything we do. We understand that precision and accuracy are critical to scientific research, and we make sure that all of our products meet the highest standards of quality and reliability. From design to manufacturing, we rigorously test our products to ensure they meet or exceed industry standards. This dedication to quality is why our product line stands out among our competitors, and we are proud to provide researchers and scientists with the tools they need to advance their research.
There are no question found.