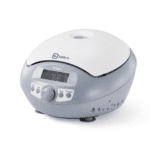 Qspin High Speed Mini Centrifuge, Gray
22
people are viewing this right now
Description
QSpin ( High Speed Mini Centrifuge ) from Qlabtics is a high-speed centrifuge that provides efficient and reliable sample processing. This device offers a speed of up to 15000rpm (15100×g), enabling rapid separation of samples.
The QSpin features a brushless DC motor drive that quickly reaches the target speed, ensuring that samples are processed efficiently. Despite its powerful performance, the QSpin operates quietly, with a low noise level of ≤54dB, making it a great choice for laboratories where noise reduction is crucial.
Furthermore, the QSpin has been proven by IEC/EN 61010-1, meaning it meets the international standards for safety and performance in laboratory equipment. Additionally, the QSpin has passed the rigorous explosion-proof test according to IEC/E/V 61010-2-20, ensuring the safety of the device and the laboratory environment.
Features:
High-speed centrifuge with a maximum speed of 15000rpm (15100×g).
Equipped with a brushless DC motor drive for quick target speed attainment.
Operates quietly with a low noise level of ≤54dB.
Meets international safety and performance standards IEC/EN 61010-1
Passed rigorous explosion-proof test according to IEC/E/V 61010-2-20
Include Rotor and adaptor for 0.2ml and 0.5 ml include
QQS-013 Blue Color
QQS-015 Gray Color
Model
QQS-013/QQS-015

Blue / Gray

Max. Speed
15000rpm(500-15000rpm), increment: 100rpm
Max. RCF
15100×g, increment: 100×g
Speed Accuracy
±20rpm
Rotor Capacity
0.2mL/0.5mL/1.5mL/2mL×12
Run Time
30sec-99min/Continuous
Acceleration/Braking time
11s↑/9s↓
Driving Motor
Brushless DC motor
Safety Devices
Door interlock, Over-speed detection, Over-temperature detection, Automatic internal diagnosis
Power
Single-phase, AC100V-240V, 50Hz/60Hz, 3A 100W
Noise level
≤54dB
Dimension[D×W×H]
255mm×245mm×140mm
Weight
6kg
Other functions
Speed/RCF switch, Short-time run function, sound-alert function
*2 years warranty.
** free of charge, unique software of Qlabtics for managing device maintenance and troubleshooting.

More Products
Qlabtics
At Qlabtics, we take great pride in delivering high-quality laboratory equipment to researchers and scientists worldwide. Our Chicago-based company has been providing unique and innovative solutions to enhance the efficiency and effectiveness of laboratory research. Our commitment to exceptional quality is at the core of everything we do. We understand that precision and accuracy are critical to scientific research, and we make sure that all of our products meet the highest standards of quality and reliability. From design to manufacturing, we rigorously test our products to ensure they meet or exceed industry standards. This dedication to quality is why our product line stands out among our competitors, and we are proud to provide researchers and scientists with the tools they need to advance their research.
There are no question found.