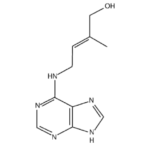 28
people are viewing this right now
Available on backorder
Description
Powder, >97%
Synonym(s): trans-Zeatin; 6-(4-Hydroxy-3-methylbut-2-enylamino)purine, N^6-(4-Hydroxy-3-methyl-2-buten-1-yl)adenine
Molecular Formula: C10H13N5O
Zeatin is a cytokinin growth regulator which promotes cell division. High concentrations of Zeatin produce advantitious shoot formation. Zeatin's uses include prevention of leaf senescence, reversal of toxin affects on shoots, and inhibition of excessive root formation. Zeatin is plant cell culture tested.
250 mg
Solubility (@ RT)
Solubility in water: soluble. Solubility in other solvents: soluble in alcohol and DMF.
There are no question found.