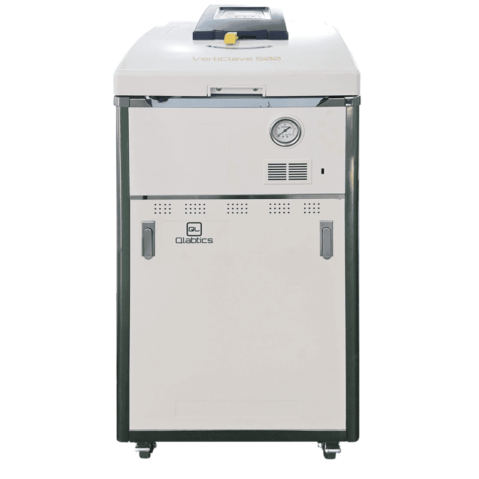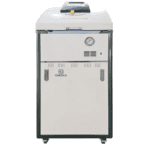 VertiClave 500 Vertical AutoClave 50 L Full-automatic control, Automatic Exhaust
27
people are viewing this right now
Description
The VertiClave(Vertical AutoClave), developed by Qlabtics, boasts an impressive range of features to meet all your autoclaving needs.
* Durable shell with stainless steel reinforcement for exceptional impact resistance.
* Lab-grade stainless steel (304) pot body for maximum hygiene and safety.
* Easy and effortless lid operation with secure lid-to-pot alignment.
I. Basic Structure:
Shell case made of high-temperature thermoplastic material with outstanding impact resistance and stainless steel.
Pot body made of lab-grade stainless steel (304).
Lid opening and closing device uses a lever-type multi-link synchronous telescopic structure, making the lid and pot body flexible and light, safe, and reliable.
II. Control and Operation:
Console uses LCD window graphic dynamic display.
Function settings are selected via scrolling graphics and text.
Sterilization phase is monitored by a micro-computer graphic display and automatic cycle control.
Automatic shutdown is initiated when sterilization phase ends (with an alarm).
III. Function Description:
One-button sterilization function selection for quick and clear choices based on different items.
Air-cooled chilling device ensures the pot body is quickly cooled at the end of sterilization.
Preheating and melting function for sterilized items with time and temperature selection.
USB interface available for monitoring process and data collection.
Sterilization reservation function available to start at a set time.
Automatic fault detection and judgment system.
Full-automatic control model discharges low-temperature air and exhausts steam when sterilization procedure ends.
IV. Safety Devices:
Safety interlocking device structure featured by electronic and mechanical interaction.
Double protection system with mechanical safety relief valve and electronically controlled overvoltage protective device.
Heater anti-drying protection function and leakage protection system.
Models
VertiClave 300
VertiClave 500
VertiClave 750
Configuration
Full-automatic control, Automatic Exhaust
The main material
Stainless steel (304)
Volume/GW
30L/97Kg
50L/101Kg
75L/113.5 Kg
Voltage/Power

220-240 V/50Hz, 110~120V/60Hz

3.5Kw

Packing size (L x W x H mm)
780x660x1160
780x660x1160
780x660x1320
Product size
(L x W x H mm)
70x630x970
570x630x970
570x630x1140
Sterilization chamber
volume(D x H mm)
370 x 320(30L)
370 x 500(50L)
370 x 690(75L)
Basket size(D x H mm)
335 x 190
1 basket
335 x 360
1 basket
335X190 & 360
2 baskets
Time setting range
0-99 h
Rated working pressure
0.217MPa
Sterilization temperature
50~134℃
12 months warranty

More Products
Qlabtics
At Qlabtics, we take great pride in delivering high-quality laboratory equipment to researchers and scientists worldwide. Our Chicago-based company has been providing unique and innovative solutions to enhance the efficiency and effectiveness of laboratory research. Our commitment to exceptional quality is at the core of everything we do. We understand that precision and accuracy are critical to scientific research, and we make sure that all of our products meet the highest standards of quality and reliability. From design to manufacturing, we rigorously test our products to ensure they meet or exceed industry standards. This dedication to quality is why our product line stands out among our competitors, and we are proud to provide researchers and scientists with the tools they need to advance their research.
There are no question found.