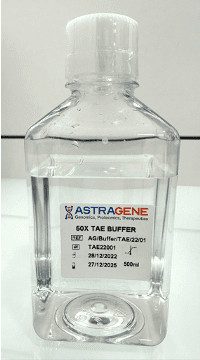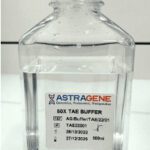 AstraGene-50X TAE buffer (500mL)
24
people are viewing this right now
Description
AstraGene-50X TAE buffer (500mL) is a specialized buffer solution commonly used in molecular biology experiments, particularly in DNA agarose gel electrophoresis.
50X TAE buffer buffer is formulated with Tris-Acetate-EDTA, providing the appropriate pH and ionic conditions necessary for efficient separation and analysis of DNA fragments. With a high concentration, the 50X TAE buffer requires dilution before use. The 500mL volume can be diluted 50 times, resulting in a total volume of 25 liters. Diluting the buffer with water or an appropriate solvent ensures the proper working concentration for optimal results. AstraGene-50X TAE buffer offers researchers a reliable and convenient solution for DNA gel electrophoresis, aiding in the visualization and analysis of nucleic acid samples.
I. Intended use: 50X TAE Buffer pH 8.5 is an extensively used buffer in Molecular Biology. Its principal application includes protection of DNA and RNA from degradation. 1X Buffer Composition 40 mM Tris, 20 mM acetic acid, 1 mM EDTA.
II. Formulae & physical characteristics: 50X TAE Buffer
III. Packaging, storage condition & shelf life:-
500mL bottle x1,
room temperature,
3 years from date of manufacturing
There are no question found.