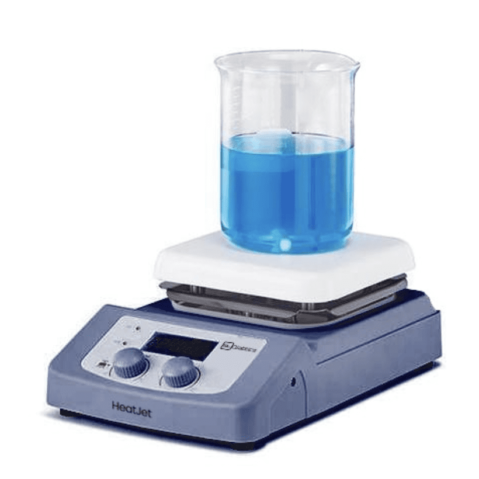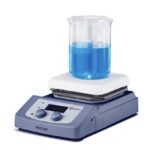 HeatJet Hotplate Magnetic Stirrer
26
people are viewing this right now
Description
*  Temperature range: Room temp. +5ºC to 380ºC. Overheat protection: 420ºC.
*  Temperature display accuracy: ±0.1ºC. External temp. sensor: PT1000 (accuracy: ±0.5ºCJ).
*  Sensor control accuracy: ±20rpm. *  Max. stirring quantity  5L
HeatJet Hotplate Magnetic Stirrer is a highly efficient and versatile lab instrument that can handle a range of heating and mixing applications with ease. With a heating temperature range of room temperature to 380°C and overheat protection up to 420°C, it is ideal for various heating and stirring operations. The device has a high-resolution LCD display that shows the actual temperature and speed, and with a control accuracy of ±0.1ºC, it ensures precise and accurate temperature control. The external temperature sensor PT1000 with an accuracy of ±0.5ºC is also provided for temperature control outside of the vessel, and the sensor control accuracy of ±20rpm ensures consistent and reliable stirring.
Features
HeatJet is a heating and stirring instrument with a maximum heating temperature of 380°C.
It features a high-resolution LCD display that shows the actual temperature and speed.
The Heatjet has a brushless DC motor that is maintenance-free
It comes with an aluminum cover and a ceramic work plate, which allow for immediate heat transfer.
External temperature control is possible using a temperature sensor PT1000.
The Heatjet has digital temperature control with a maximum temperature of 380°C.
It also has digital speed control with a maximum speed of 1500rpm
The maximum stirring quantity of H2O is 5L
| | |
| --- | --- |
| HeatJet | QHJ-001 |
| Work plate material – Motor Type | Aluminum cover with ceramic coating – Brushless DC motor |
| Max. stirring quantity [H2O] | 5L |
| Work plate dimension [WXH] | 140×140 mm (5.5X5.5 in) |
| Max. magnetic bar | 50mm |
| Speed display and Temperature display | LCD |
| Heating temperature range | Room temp: +5ºC-380ºC |
| Speed range | 200-1500rpm |
| Over heat protection | 420ºC |
| Dimension [WXDXH] | 320X180X108mm |
| External temperature sensor | PT1000 (accuracy ±0.5ºCJ) |
| Control accuracy of sensor | ±20rpm |
| Protection class | IP21 |
| Voltage- Weight | 100-120/200-240V, 50/60Hz-2.2Kg (4.9 lbs.) |
| Permissible ambient temperature and humidity | 5-40℃, 80%RH |
12 months warranty

More Products
Qlabtics
At Qlabtics, we take great pride in delivering high-quality laboratory equipment to researchers and scientists worldwide. Our Chicago-based company has been providing unique and innovative solutions to enhance the efficiency and effectiveness of laboratory research. Our commitment to exceptional quality is at the core of everything we do. We understand that precision and accuracy are critical to scientific research, and we make sure that all of our products meet the highest standards of quality and reliability. From design to manufacturing, we rigorously test our products to ensure they meet or exceed industry standards. This dedication to quality is why our product line stands out among our competitors, and we are proud to provide researchers and scientists with the tools they need to advance their research.
There are no question found.