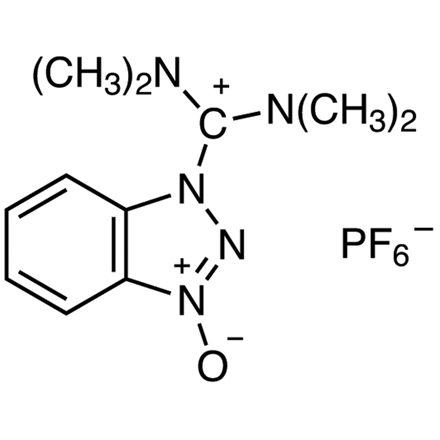 HBTU[Coupling Reagent for Peptide], 25G –
25
people are viewing this right now
Description
HBTU (O-(Benzotriazol-1-yl)-N,N,N',N'-tetramethyluroniumhexafluorophosphate) is a popular coupling reagent for peptide synthesis. It is a white crystalline powder that is soluble in dimethylformamide (DMF), dimethyl sulfoxide (DMSO), and N,N-dimethylacetamide (DMA).
Here are some more details about HBTU as a coupling reagent for peptide synthesis:
Mechanism of action: HBTU works by activating the carboxyl group of the amino acid or peptide with the formation of a highly reactive O-acylisourea intermediate, which then reacts with the amine group of the incoming amino acid or peptide. This results in the formation of a stable peptide bond.
Advantages: HBTU is highly efficient and provides fast coupling rates, which makes it suitable for automated peptide synthesis. It also produces high yields and low epimerization rates. Additionally, it is a less expensive alternative to other commonly used coupling reagents like HATU or PyBOP.
Usage: HBTU is typically used in combination with N,N-diisopropylethylamine (DIEA) or N-methylmorpholine (NMM) as a base in DMF or other polar aprotic solvents for peptide coupling reactions.
Storage: HBTU should be stored in a cool, dry place away from light and moisture. It is stable for up to one year if stored properly.
Safety: HBTU is classified as a hazardous substance and should be handled with care. It may cause irritation to the eyes, skin, and respiratory system. Protective clothing, gloves, and eyewear should be worn when handling the reagent.
Overall, HBTU is a widely used and effective coupling reagent for peptide synthesis, offering high yields, low epimerization rates, and cost-effectiveness.
Purity: >98.0%(HPLC)
Synonyms:
1-[Bis(dimethylamino)methylene]-1H-benzotriazolium 3-Oxide Hexafluorophosphate
HBTU[Coupling Reagent for Peptide], 25G – B1657-25G
– PROPERTIES –
Purity: Min. 98.0 (HPLC)
Size: 25G
Unit: EA
Molecular Formula/Molecular Weight: C11H16F6N5OP=379.25
CAS No: 94790-37-1
Physical State: Solid
Color: White
Melting Point: n/a
Condition to Avoid: Light Sensitive!Moisture Sensitive
Refractive Index: n/a
Specific Gravity: n/a

MDL No: MFCD00075445
SDBS: n/a
MINUM: n/a
PUBCSUB: 87564558
UNSPSC: 12352100
UN No: n/a
Hazard Class: n/a
DOT Name: n/a
Pkg Grp: n/a
TSCA: No
There are no question found.