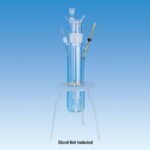 Photochemical Reaction Vessel, Ace Glass Incorporated
20
people are viewing this right now
Available on backorder
Description
Reaction vessel constructed of borosilicate glass to accommodate the immersion wells
With one- standard taper 14/20 angled joint for sparger tube, one- standard taper 24/40 vertical joint for condenser and one- #7 Ace-Thred side arm for thermometer. Center joint is standard taper 60/40. Bottom of reactor is flat to allow use of magnetic stirrer. Volumes indicated are total volumes. Volume in reactive area of lamp is approx. 40-50% of total volume.
The vessel features a cylindrical design, with a round bottom and a tapered neck that allows for easy access and manipulation of the contents. The vessel also features a removable septum, which allows for easy introduction of reagents and reaction mixtures, and a PTFE-lined screw cap, which provides a secure and tight seal to prevent leaks and evaporation.
The vessel is designed to be used with a variety of light sources, including UV lamps and sunlight. The vessel can be placed in a temperature-controlled chamber or water bath to control the temperature of the reaction, and can be stirred using a magnetic stirrer or other mechanical means.
The Photochemical Reaction Vessel is suitable for a variety of photochemical reactions, including photocatalysis, photodegradation, and photoredox reactions. The vessel is also suitable for the synthesis of a variety of compounds, including organic molecules, nanoparticles, and materials.
Ordering information: Complete unit consists of vessel, sparger tube, PTFE stir bar, threaded nylon bushing and three meters of 4.8 mm (3/16″) I.D. PTFE tubing.
Jacketed Photochemical Reaction Vessel
Capacity  250 ml
For use with  220 mm Flasks
7841-05
There are no question found.