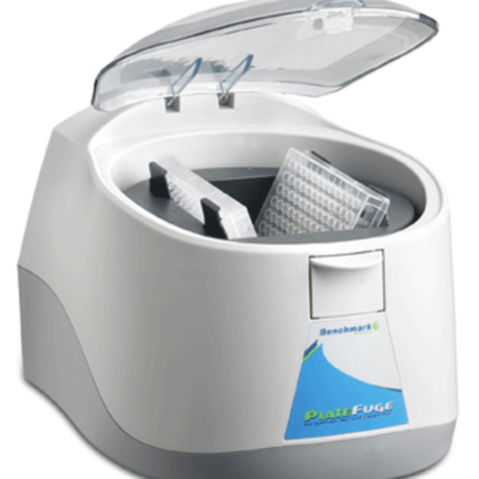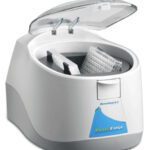 PLATEFUGE™ Microplate Microcentrifuge With Rotor and Plate Carriers
22
people are viewing this right now
Available on backorder
Description
The PLATEFUGE™ Microplate Microcentrifuge is a laboratory instrument designed for quick and easy centrifugation of microplates. It features a compact design that allows it to fit easily on a benchtop, and comes with a rotor and plate carriers that can accommodate different types of microplates.
Quickly spins down droplets in PCR plates
Unique swing-out rotor design prevents spillage (patented)
Half the size of traditional centrifuges
Accepts all popular types of PCR plates (skirted, semi, and non) and most microtiter plates
Specifications
Speed
2550 rpm / 600 xg
Capacity
2 x 2 PCR Plates
2 x microtiter plates
(up to 25 mm)
24 x 0.2 ml PCR strips
Deceleration
4 seconds
Dimensions
9.2 x 10.2 x 7.75 in.
(23 x 26 x 19.7 cm)
Weight
9 lbs / 4.1 kg
Electrical
115V or 230V; 50-60Hz; 250W
Warranty
2 Years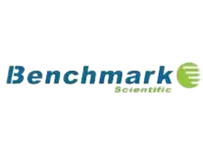 More Products
Benchmark Scientific
Headquartered in Sayerville, NJ, Benchmark Scientific is a well-known provider of high quality and economical lab equipment ranging from benchtop centrifuges, incubators, thermal cyclers, autoclaves, vortex mixers, and homogenizers to name a few. With innovative solutions engineered to boost not just lab efficiency and safety but also results, Benchmark Scientific makes way for improved productivity of various life science research centers, molecular laboratories, clinical facilities, and universities.
There are no question found.