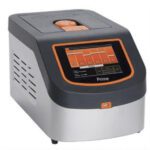 PrimeG Gradient Thermal Cycler 96 x 0.2ml
24
people are viewing this right now
Description
5PRIMEG/02
PrimeG Gradient Thermal Cycler 96 x 0.2ml
Techne 5PRIMEG/02 / Cole-Parmer EW-93945-19 / Fisher 13-245-137 / VWR 89235-826
User friendly programming is achieved via a colour touchscreen and intuitive software that is standardised across the entire Techne thermal cycler range. A USB port enables the transfer of programmes between instruments and temperature logs to your PC. A real time graphical display provides an instant visualisation of the program status.

Gradient cycling can be achieved directly using the PrimeG instrument or by upgrading the Prime unit via a USB software installation. This enables the laboratory to manage changing cycling requirements in a cost effective manner.

The Techne Prime cycler range is one of the most affordable full sized thermal cyclers on the market and is backed up by a 4 year warranty.
Colour touchscreen for fast program setup
Upgrade to gradient with a simple unlock code
Versatile block formats
Fast ramp rate up to 3.4°C/sec
Techne 4 year warranty
PrimeG
The PrimeG is a gradient enabled thermal cycler with all the features of the Prime unit. The wide linear gradient with a range of 29°C allows annealing temperatures to be optimised in one experiment. The gradient calculator function displays the temperature for each of the 12 columns, ensuring easy replication of thermal conditions.
Additional Features to Prime
Gradient can be applied across a temperature range 30°C to 80°C
Gradient calculator function
Maximum Gradient 29°C (Model PRIMEG/02)
Maximum Gradient 29°C (Model PRIMEG/05)
Maximum Gradient 25°C (Model PRIMEG/C)
Maximum Gradient 19°C (Model PRIMEG/384)
Technical Specifications
Parameters
Prime
PrimeG
Sample capacity: 0.2ml
96
96
Sample capacity: 0.5ml
60
60
Sample capacity: 384 well
Yes
Yes
Maximum heating rate
3.4°C per second
3.4°C per second
Block temperature range
10°C to 100°C (4°C final hold)
10°C to 100°C (4°C final hold)
Block uniformity at 55°C
± 0.3°C
± 0.3°C
Temperature accuracy at 55°C
± 0.25°C
± 0.25°C
Gradient
na
29°C, 25°C (Combi-Block), 19°C (384)
Minimum Gradient
na
1°C
Maximum number of programs stored
1000
1000
Maximum fan noise
30dB
30dB
Type
8 peltier elements
8 peltier elements
Adjustable heated lid temperature
35°C to 115°C or off
35°C to 115°C or off
Heated lid pressure
Adjustable, dependent on consumables
Adjustable, dependent on consumables
Program interface
5.7 inch touchscreen
5.7 inch touchscreen
Data transfer
USB port
USB port
Auto re-start on power failure
Yes
Yes
Dimensions (L x W x H)
420 x 240 x 240mm
420 x 240 x 240mm
Weight
9.4kg
9.4kg
Voltage
100-230, 50-60Hz
100-230, 50-60Hz
Power
425W
425W
Electricity used in a standard 2 step, 30 cycle program
0.3 kWh
0.3 kWh
There are no question found.