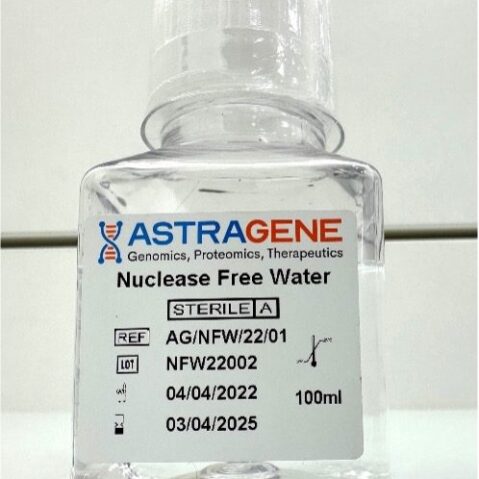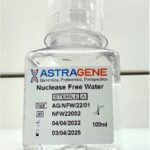 AstraGene- Nuclease Free Water 100 ml
16
people are viewing this right now
Description
AstraGene-Nuclease Free Water (100mL) is a high-quality water product specifically designed for molecular biology applications where the presence of nucleases can be detrimental.
This water is meticulously treated and purified to ensure complete removal of nucleases, such as DNases and RNases, which can degrade nucleic acids and interfere with experimental results. With a volume of 100mL, AstraGene-Nuclease Free Water offers a sufficient quantity for various laboratory procedures, including DNA and RNA sample preparation, PCR, and other sensitive enzymatic reactions. Its nuclease-free nature guarantees the integrity and reliability of nucleic acid samples, allowing researchers to confidently carry out their experiments without the risk of unwanted enzymatic degradation. AstraGene-Nuclease Free Water is a valuable resource for molecular biology researchers seeking consistent and reproducible results in their studies.
I. Intended use: AstraGene's Nuclease free water is non-DEPC treated, suitable for use in molecular biology applications where high quality of water is required and should be free from Nuclease, DNase, RNase and protease contamination.
II. Formulae & physical characteristics: Sterile Filtered Non DEPC treated water,colourless solution
III. Packaging, storage condition & shelf life:-
100mL bottle,
room temperature,
3 years from date of manufacturing
There are no question found.