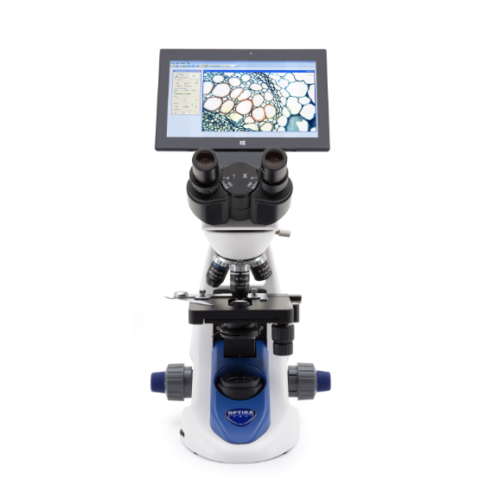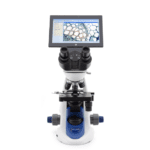 B-190 Digital binocular microscope, WITH TABLET, 1000X,
31
people are viewing this right now
Available on backorder
Description
Digital binocular microscope ideal for teachers and secondary schools, with four N-PLAN objectives (1000x), FN 18 high eyepoint, finite optical system, coaxial focusing, mechanical stage, Abbe condenser and powerful, uniform, white color temperature 3 W X-LED2 illumination.
The 3.1 MP CMOS camera ensures excellent colour reproduction and is connected to a Windows tablet PC with vivid color graphic display for unparalleled comfort and performance. The tablet represents a 2-in-1 solution as it can be disconnected and used as a real PC, being Windowsbased, with powerful Intel processor and large touch screen of 10.1" for fast, responsive and smooth control.
Observation mode: Brightfield.
Head: Binocular, 360° rotating and 30° inclined. Interpupillary distance from 48 to 75 mm; dioptric adjuctment on left eyepiece. Built-in 3.1 MP camera.
Eyepieces: WF 10x/18 mm, secured by screw.
Nosepiece: Quadruple revolving nosepiece, rotation on ball bearings.
Objectives:
– N-PLAN objective 4x/0.10
– N-PLAN objective 10x/0.25
– N-PLAN objective 40x/0.65
– N-PLAN objective 100x/1.25 (Oil/Water).
All with anti-fungus treatment.
Specimen stage: Double layer mechanical sliding stage, 125×115 mm, 70×30 mm X-Y movement range. Vernier scale on the two axes, accuracy: 0.1mm.
Focusing: Coaxial coarse (adjustable tension) and fine focusing mechanism with limit stop to prevent the contact between objective and specimen.
Condenser: Abbe N.A. 1.25, pre-centered, adjustable height with iris diaphragm.
Illumination: X-LED² with white 3 W LED and light intensity control. Color temperature: 6,300 K. Multi-plug 100-240Vac/6Vdc external power supply. Color temperature: 6,300 K.
There are no question found.