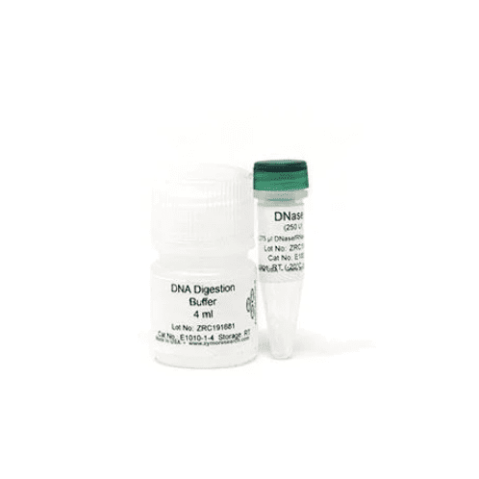 21
people are viewing this right now
Available on backorder
Description
HIGHLIGHTS
---
Superior activity.
Certified RNase-free and protease-free.
Withstand more than 10 freeze-thaw cycles.
DESCRIPTION
---
DNase I is an endonuclease that nonspecifically cleaves single- and double-stranded DNA. It requires divalent metal cations to be active.
TECHNICAL SPECIFICATIONS
---
| | |
| --- | --- |
| Unit Definition | One Kunitz causes an increase in absorbance at 260 nm of 0.001 per minute per ml, at 25°C, pH 7.5, when acting on salmon sperm DNA according to the assay method of Kunitz. One Unit of DNase I is equivalent to 12 Kunitz. |
| Storage | After reconstitution, place on ice until ready to use or store frozen aliquots (-20°C). |
| Reconstitution | Add DNase/RNase-free water to the lyophilized DNase I, mix by gentle inversion. Avoid phosphate buffer and calcium chelators. |
| Inactivation | Heat inactivate at 75 °C for 10 min with 5 mM EDTA. |
Remove DNA from protein and RNA samples.
Preparation of DNA-free RNA.
DNA labeling by nick-translation.
Removal of DNA template after in vitro transcription.
Removal of DNA from RNA samples prior to downstream applications (NextGen sequencing, RT-PCR).
There are no question found.