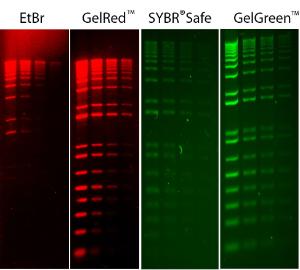 GelGreen™ 10000X in water
26
people are viewing this right now
Available on backorder
Description
GelRed and GelGreen are highly sensitive DNA/RNA gel stains made safe by preventing penetration into cells.
Highly sensitive either as precast gel stains or post gel stains
Can be microwaved and stored at room temperature
GelRed™ has been shown to be less mutagenic than ethidium bromide
No destaining necessary
GelRed is compatible with any standard 312 nm transilluminator.
GelGreen can be used with a 254 nm UV transilluminator or gel reader with visible light excitation
730-1535
There are no question found.