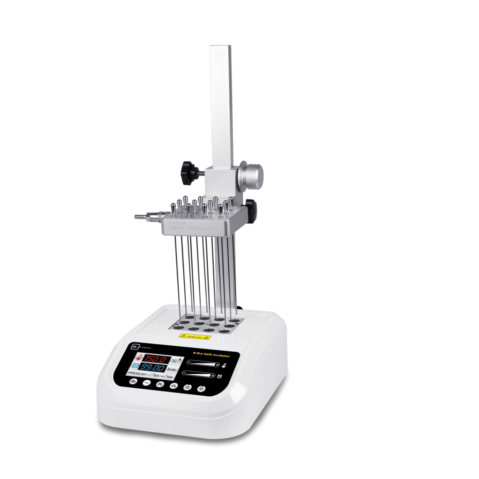 Nitrogen blowing instrument Programmable Q Dry Bath Incubators (Single BLock not include )12 needles, including rod and fixed slot
28
people are viewing this right now
Description
Nitrogen blowing instrument Programmable Q Dry Bath Incubators (Single BLock)12 needles,including rod and fixed slot
Nitrogen blowing instrument Q Dry Bath Incubator One machine for two purposes: used as a nitrogen blowing instrument Equipped with an air chamber and a special adjustable bracket to achieve the nitrogen blowing function.
Features:
Rapid and Uniform Heating: The Q Dry Bath Incubator Series excels in its fast heating speed and uniform heat distribution, ensuring efficient and consistent temperature control for optimal experimental results.
Precise Temperature Control: With built-in temperature deviation calibration, researchers can rely on accurate temperature settings. The microcomputer system ensures high stability, enhancing the reproducibility of experiments.
Safety and Reliability: Equipped with an over-temperature protection device, the Q Dry Bath Incubator Series guarantees safe operation while prolonging the instrument's lifespan. Additionally, automatic fault detection and a buzzer alarm function provide further security measures.
Compact Design with Intuitive Display: The product's compact design optimizes space utilization in the laboratory. The high-definition color screen display offers a clear and intuitive visual experience, facilitating easy monitoring of incubation processes.
Flexible Temperature Control: Users can choose between simple or program temperature control modes, providing convenience and adaptability for various experimental protocols.
User-Friendly Operation: The Q Dry Bath Incubator Series features a sliding operation design and light touch buttons, ensuring ease of use. The stylish and contemporary design enhances the overall laboratory experience.
Enhanced Experiment Environment: Researchers have the option to mute the buzzer, reducing noise levels in the laboratory and promoting a quieter working environment.
Easy Maintenance and Sample Protection: The replaceable metal block design simplifies cleaning and disinfection processes, minimizing the risk of sample contamination.
Q Dry Bath Incubator Series offers researchers a reliable, user-friendly, and efficient solution for various laboratory applications. With its advanced features and superior performance, this instrument significantly contributes to the advancement of scientific research.
*2 years warranty.
.** free of charge, unique software of Qlabtics for managing device maintenance and troubleshooting.

More Products
Qlabtics
At Qlabtics, we take great pride in delivering high-quality laboratory equipment to researchers and scientists worldwide. Our Chicago-based company has been providing unique and innovative solutions to enhance the efficiency and effectiveness of laboratory research. Our commitment to exceptional quality is at the core of everything we do. We understand that precision and accuracy are critical to scientific research, and we make sure that all of our products meet the highest standards of quality and reliability. From design to manufacturing, we rigorously test our products to ensure they meet or exceed industry standards. This dedication to quality is why our product line stands out among our competitors, and we are proud to provide researchers and scientists with the tools they need to advance their research.
There are no question found.