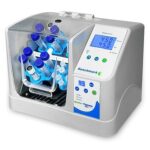 ROTO-THERM™ PLUS incubated rotator (variable speed) with tube holders
32
people are viewing this right now
Available on backorder
Description
Rotated mixing with temperature control
Includes tube holders for common tube sizes
Available with variable speed control and advanced shaking/ mixing modes: Mix (Oscillating), Pause, Rock
Specifications
| | | |
| --- | --- | --- |
| Temperature: | Ambient 5 to 60°C | |
| Speed (H2020): | 24rpm | |
| Speed (H2024): | 5 to 70rpm | |
| Mixing Modes (H2024): | Mix – Pause – Rock | |
| Dimensions: | 11.8 x 8.5 x 9in (29.5 x 21.6 x 22.9cm) | |
| Weight (H2020): | 9 lbs (4kg) | |
| Weight (H2024): | 10 lbs (4.5kg) | |
| Electrical: | 115 or 230V 50-60Hz; 0.5A (H2020) / Universal Voltage 100 to 240V 50-60Hz; 0.5A (H2024) | |
| Warranty: | 2 Years | |
Benchmark's new Roto-Therm series of incubated rotating mixers provide a wide range of mixing capabilities. Suitable for an array of laboratory applications including resuspension, protein binding, nucleic acid purification, histochemistry, hybridization etc, the mixers include
interchangeable tube holders for accomomodating all common tube sizes from 0.5ml to 50ml. The motion can be adjusted from vertical (end over end) mixing, to horizontal (rolling or hybridization style) mixing.
For applications requiring temperature control, the Roto-Therm series can be digitally programmed to maintain chamber temperatures of ambient 5°C to 60°C and include an "in-lab" calibration function for ensuring accurate temperature control.
The Roto-Therm is also available in a "Plus" configuration, providing the following additional features:
Variable speed: 5 to 70rpm
"Mix" function: Rotating in combination w/ oscillations (increased mixing)
"Pause" function: Rotating with intermittent "stops" during rotation
"Rock" function: Back and forth, gentle rocking motion (see-saw)
The Plus model also offer an additional rocking platform (4.5 x 3 in.), as well as a 96 x 0.2ml tube/strip/plate holder for mixing PCR vessels in the "Mix" (oscillating) mode.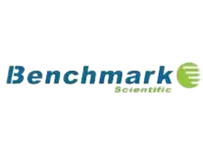 More Products
Benchmark Scientific
Headquartered in Sayerville, NJ, Benchmark Scientific is a well-known provider of high quality and economical lab equipment ranging from benchtop centrifuges, incubators, thermal cyclers, autoclaves, vortex mixers, and homogenizers to name a few. With innovative solutions engineered to boost not just lab efficiency and safety but also results, Benchmark Scientific makes way for improved productivity of various life science research centers, molecular laboratories, clinical facilities, and universities.
There are no question found.