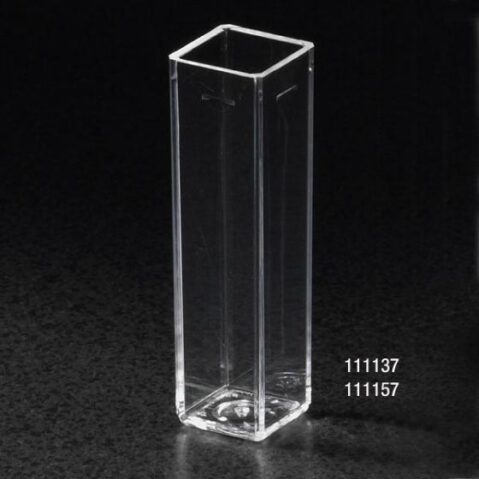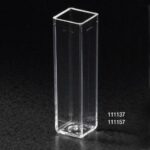 4.5mL Spectrophotometer Cuvette, Polystyrene (PS)
25
people are viewing this right now
Available on backorder
Description
Globe's disposable standard and semi-micro cuvettes are designed for use in spectrophotometers.
They are produced from either optical polystyrene or UV grade PMMA and include optical windows for optimum transmittance through spectrum range from 340 to 800nm for the optical polystyrene and from 280-800nm for the UV Grade PMMA.  These cuvettes are engineered for high reproducibility and offer variations within the range of ±1% absorption.
Features:
Capacity: The cuvette has a total capacity of 4.5 milliliters (4.5mL), which refers to the maximum volume of the sample that can be accommodated inside the cuvette for analysis.
Material: The cuvette is made of Polystyrene (PS). Polystyrene is a transparent plastic material known for its excellent optical properties, making it suitable for spectrophotometry experiments. It allows light to pass through without significant interference or absorption in the visible light range.
Optical Path Length: The cuvette has a standard optical path length of 10 millimeters (10mm). The optical path length refers to the distance traveled by light through the sample solution inside the cuvette. It is an important parameter in spectrophotometry, as it affects the absorbance and transmittance measurements.
Dimensions: The exact dimensions of the cuvette may vary slightly, but a typical cuvette of this type measures approximately 12.5 mm (height) x 12.5 mm (width) x 45 mm (length).
Compatibility: The cuvette is designed for use with spectrophotometers, which are instruments used to measure the absorbance or transmittance of light by a sample solution. It is important to ensure that the cuvette is compatible with the specific spectrophotometer model being used.
Applications: Spectrophotometer cuvettes are widely used in various scientific disciplines, including chemistry, biochemistry, molecular biology, and clinical laboratories. They are used for quantitative analysis, such as measuring the concentration of substances in a solution, as well as qualitative analysis, such as identifying the presence of specific compounds
Material: UV grade PMMA
Spectrum range: UV grade PMMA – 280 to 800nm
The cuvettes are packaged in dust-free PE foam trays. Each tray contains 100 cuvettes.
Case of 500
Cuvette, Spectrophotometer, Square, 4.5mL (10mm), UV Grade Methacrylate, 4 Clear Sides, 100/Tray, 5 Trays/Unit
There are no question found.